School partnership
"In the past and yet present" –
searching for traces of (German) colonialism
Msitu wa Tembo Secondary School in Moshi, Tanzania and
the Helene-Lange-Schule in Hanover, Germany
Our partnership started in 2009. In the ten years since, students and teachers have met annually, either in Tanzania or in Germany, despite the great distance between the two countries. Between visits, we regularly exchange information via email, WhatsApp and video conferencing.
Our partnership is mainly focused on the planning and implementation of joint projects. These projects not only promote intercultural exchange, but also address topics related to the SDGs.
In 2019, after several projects related to environmental issues (e.g. water, solar energy, nutrition, reforestation), we decided to process our "common" colonial past together. This sensitive topic requires a cooperation based on trust in which there is also room for a change of perspective, which was possible thanks to our longstanding partnership. The topic was met with great interest in both schools. In addition to working through our shared history, the aim was also to identify and classify our own stereotypes and prejudices and to develop a deeper understanding of each other. The purpose of the project was therefore not only to shed light on the past, but also to illustrate its impact on the historical consciousness in both countries.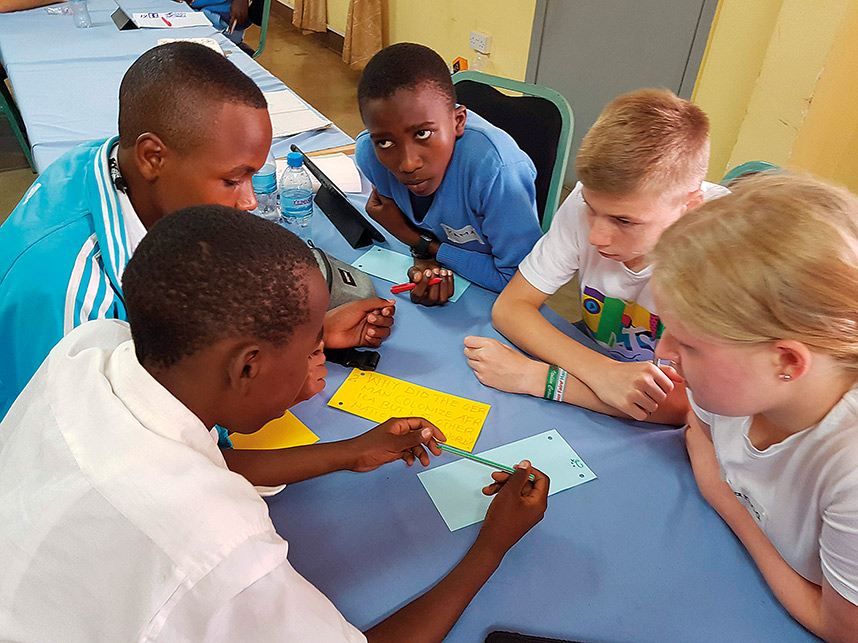 During the encounter in Moshi, Tanzania, we visited many colonial sites, following a lecture by a history professor from the University of Arusha who also provided expert advice. The first step in our project work was to locate, document and research the relics of colonialism and their various functions. We encountered many historical sites (more than expected), including a railway line, Christian churches and former German administrative buildings, which taught us a great deal about the past. We were particularly impressed by the small museum in Moshi, which features an exhibition about the resistance fighter Mangi Meli. He was executed and his head was taken to Germany to be measured in line with racist criteria.
This led to long discussions among all participants, during which we all learned a lot (from each other). As it turned out, we had a somewhat different understandings of history: While the German participants regarded this period as a "dark chapter" in their history, the Tanzanian students perceived some aspects of colonialism as something positive from which Tanzania was able to benefit, eventually contributing to the country's independence.
However, we did arrive at the common conclusion that colonial rule was devastating for the people of German East Africa, and that this foreign domination has left many traces that are still in evidence today.
During the return visit to Hanover, we aim to continue this research project and our discussions about the effects of the colonial legacy up to the present day (post-colonialism). For this purpose, we are planning to create a virtual city tour of places with a colonial connection based on the "Actionbound" app.
Military barracks from the
colonial era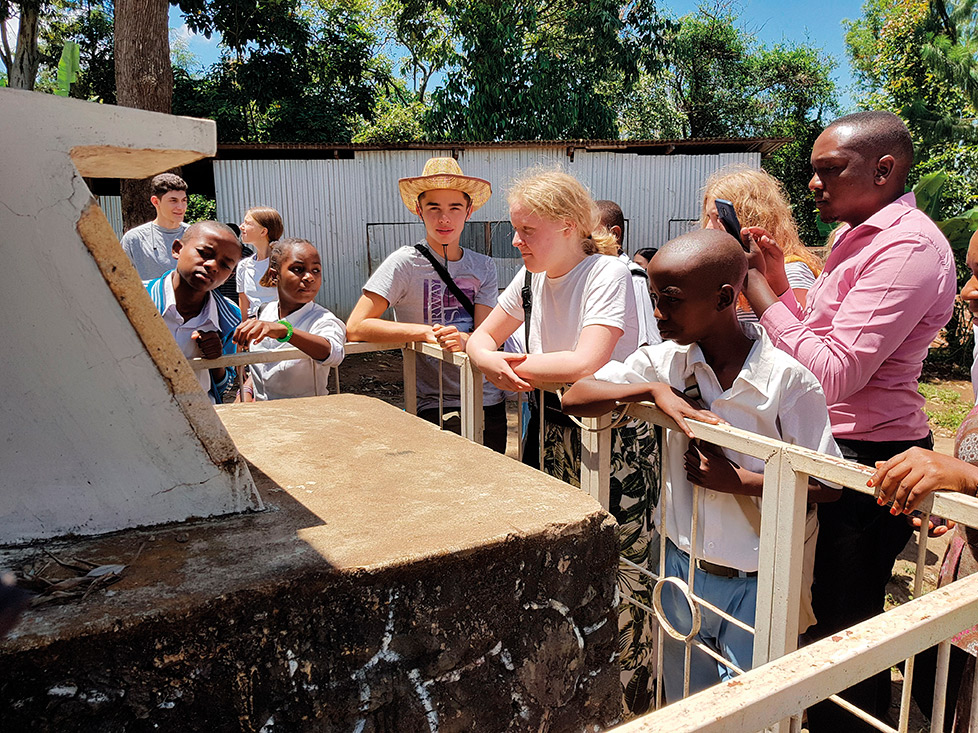 Visit to a monument
commemorating Christian
missionaries